We are pleased to welcome you and your family to the South Texas College community!  During the First-Year Connection you will have fun while learning about the many resources and opportunities available at South Texas College. Use the form on this page to select the session you wish to attend!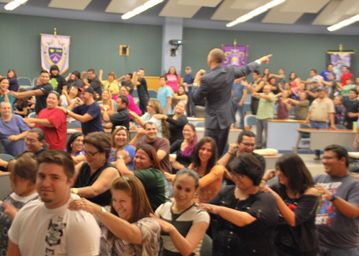 FACT: Students who attend the First-Year Connection are more successful and earn higher grades! Don't miss out on this opportunity to get your college career off to a great start!!!
Make sure your parents and family attend – there will be special sessions for parents in English and Spanish to help them understand what you will be experiencing as a college student.
Register Now!

First Year Connection Sessions
Mid-Valley Campus | Map
Lecture Hall (G.191)
Thursday, August 20, 2015
10:00am – 12:30pm
2:00pm – 4:30pm
6:00pm – 8:30pm
Pecan Campus | Map
Building H Cafeteria
Thursday, May 21, 2015
9:00am – 11:30am
(PSJA Students Only)
Friday, May 22, 2015
9:00am – 11:30am
(PSJA Students Only)
Friday, May 22, 2015
2:00pm – 4:30pm
Saturday, August 15, 2015
12:00pm – 2:30pm
Monday, August 17, 2015
12:00pm – 2:30pm
6:00pm – 8:30pm
Starr County Campus | Map
Building E Auditorium
Wednesday, August 19, 2015
6:00pm – 8:30pm
Find us on Facebook:

Fall 2014 FYC Image Gallery
Spring 2015 FYC Image Gallery
Student Activities and Wellness
Phone 956.872.3535
Fax 956.872.2661