South Texas College Counseling and Student Disability Services is closed for in-person appointments; however, staff will continue to provide counseling and student disability services remotely. If you are a current student with a scheduled appointment in the next 2 weeks, a staff member will be reaching out to you by phone and/or student email. If you need to communicate with a Counseling and Student Disability Services Staff or cancel a scheduled appointment, use your student email or call (956) 872-2173.
Students requesting assistance may call our main line at (956) 872-2173 and leave a message and we will return your call within 1 business day.
If this is an emergency, please call 911. You an also reach South Texas College Department of Public Safety at (956) 872-4444.
Tropical Texas Behavioral Health 24 hour crisis line is available to assist you and provide information on resources during stressful times. Please know that 24-hour help is available by calling 1-877-289-7199 for Hidalgo County. Help is also available for Starr County by calling Border Region Behavioral Health Center at 1-800-643-1102. Screenings and assessments are provided as needed to include determination of the need for hospitalization or diversion to other less restrictive treatment alternatives. The National Suicide Prevention Lifeline is 1-800-273-8255 Press 1 for Veterans line. To access the Crisis Text Line, text 4669 to 741741.
Students may continue to send email messages to their counselors. Counselors will respond within 1 business day. Email messaging is not for crisis or emergency situations.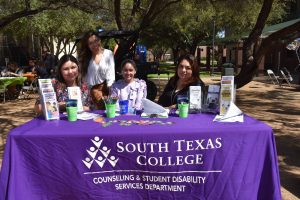 Thank you,
Mayra L. Avila, LCSW-S
Senior Coordinator of Counseling
Board-Approved Supervisor
Certified Laughter Yoga Teacher/Laughter Ambassador
Office: PCN K 2.916
Phone: (956) 872-2530
Fax: (956) 872-0626