Student Services
Part II
Resources for Student Success
---
Centers for Learning Excellence
The Centers for Learning Excellence provides free tutoring services for all enrolled South Texas College students. Additionally, the CLE also supports students through Supplemental Instruction, Academic Coaching, finals review sessions, online student success workshops and much more. These services are currently available on our campuses by appointment or online as needed. You can access the different services by either calling 956-872-8303 or by visiting our website the CLE website.
COVID-19 Update – CLE services are now available online! Watch the short video below to learn more.
---
Library
South Texas College Library Services is committed to providing a welcoming, learning-centered environment, rich in quality information resources and outstanding services to meet the research, instructional and learning needs of the South Texas College students, faculty, staff and community. The Library Services can be accessed online through the Library website. Follow the link to see the resource available.
COVID-19 UPDATE – To help contain the potential spread of corona virus, all libraries and labs are currently closed. However, we offer online library resources, including eBooks, eJournals, and streaming videos, online chat assistance, and limited services by reservation.
---
Learning Commons & Open Labs
Learning Commons & Open Labs promote excellence in student learning at South Texas College by providing a welcoming environment with professional staff, innovative resources, and outstanding customer service.
Computer assistance
Printing services
Windows and Mac computers
Group stations
Multimedia editing stations
Scanning stations
Specialized software
Blackboard support
3D printing to support class projects
---
JagExpress (Shuttle Service)

Need a Ride? Consider JagExpress!
Whether you are heading to class at the Tech Campus or taking advantage of our Park & Ride feature, you can count on JagExpress to get you where you need to be. We offer convenient routes between each of our five campuses along with many points in between. Using JagExpress is fast, easy and free to the public!
JagExpress Website
---
Providing Academic Support to Students – P.A.S.S. Program
The P.A.S.S. Program provides support services to Career & Technical Education students to assist them in completing their educational goals. PASS provides holistic comprehensive advisement to establish and enhance the connection between the student and college.
P.A.S.S. Program provides Career & Technical Education students with:
Intensive Case Management
Resource and Referral Services
Career/Academic Advising
Advising for Priority Registration
Childcare Assistance
Instructional Supplements
Enrichment Workshops
---
Academic Advising

At South Texas College we are prepared to help you along the way. Our advisors will assist you in identifying test requirements, managing your degree plan, and ensuring that you are aware of campus tools and resources that can help you become a successful student. You can contact an advisor at a campus near you or call a advising representative at 956-872-8372.
---
Counseling and Student Disability Services
Life situations at times require professional assistance. At South Texas College, Counseling and Student Disability Services (CSDS) Staff provide services designed to help students attain educational, career and personal goals. These services are offered in a confidential atmosphere where the student may discuss concerns that are important to their educational and personal success. Mental Health Counseling services include: assistance in resolving a crisis or personal issue interfering with educational success. Case management services are also available to assist the student in becoming comfortable in a college setting; making personal, educational, and career choices; taking control of their life; connecting to resources; reducing stress; setting goals; and coping with a life crisis.
Student Disability Services
Student Disability Services are available to provide students the support services necessary to help them meet the educational, career and personal needs while attending South Texas College. Students can be provided with classroom and testing accommodations as well as assistive technology. Also, Pregnant and Parenting Services are available for students needing temporary accommodations to continue their courses. Students can visit our website and complete the contact form to start the process and get connected with our services.
---
Cashiers Office
The Cashiers Office job is the billing and collection of tuition and fees from students in an efficient, timely, professional, courteous, and customer-oriented manner.
Installment Plans
Our Installment Plans are designed to let you take your classes while making monthly payments after you pay an initial percentage of your total tuition and fees.
Emergency Loans
If you need to pay your college costs but are running low on time, you may be able to get an emergency loan. These short-term loans must be repaid by the scheduled due dates.
---
Office of Career & Employer Services
The Office of Career & Employer Services is committed to empowering students and alumni to connect their academic experience with career success through the development of professional marketability.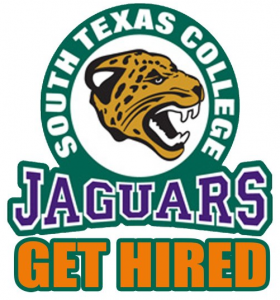 Jobs Count a Career Matters!
Career planning goes beyond choosing a major— it's a continuous and lifetime effort of determining where you are and where you want to be. The Office of Career & Employer Services helps students to develop strategies that support career and life goals. Learn how programs at South Texas College lead to great careers! Get started, view matches, and start exploring your future.
Take a Career Assessment
View our Online Job Board
How You Finish, has everything to do with How You Start!
The Office of Career & Employer Services offers a variety of services tailored to meet your needs from the start of your educational journey to successful careers after graduation. Resources are offered to currently enrolled students and South Texas College Alumni. Start exploring our services now!
Know the Skills Employers Want Most!
Get the Steps for a Successful Career
---
Police & Security

For the South Texas College Department of Public Safety, the security and safety of our students is TOP PRIORITY. Important Links
To reduce in-person contact at the Department of Public Safety, please email questions concerning lost and found property, incident reports, and general questions, comments, or concerns to stcdps@southtexascollege.edu. For parking-related questions, please email dps_parking@southtexascollege.edu.
---
Rave Guardian App
No matter the situation you are in, assistance is two clicks away and can provide the help and resources you need through the RAVEGuardian app. The app permits you to enter personal information that will assist first responders in helping you during an emergency.

RAVEGuardian is available as a native app for both iOS and Android devices or you can register online for STC Rave Emergency Alert to receive campus emergency alerts, campus closures, etc.
---
JagMobile
The official mobile app that every STC student must have.
Stay focused on academics
Register for your classes on the go
Access your Blackboard assignments and setup due date reminders
View Blackboard announcements and events
Always have your class schedule at hand and review your final grades
View and pay your student account balance
Have quick access to JagNet and JagMail
Be informed about your campus resources
Use campus maps to find your way on the campus
Stay informed about campus news and events
Keep track of your JagExpress ride real-time
Quickly find your required course materials using our South Texas College Barnes & Noble bookstore
Access faculty and staff contact information as well as campus important numbers
JagMobile is available as a native app for both iOS and Android devices.
---
Financial Aid
One of the first steps to take to ensure your college expenses are covered is to submit a Free Application for Student Aid (FAFSA). Our Student Financial Services Department can help guide you through the whole process. Just remember your eligibility is dependent on:
Completing your FAFSA
Create an FSA ID account
Completing the FAFSA process early enough to ensure payment of courses
Apply for Financial Aid School Code: 031034
TASFA
As specified by Senate Bill 1528, state law permits students that are neither US citizens nor permanent residents to be classified as Texas residents for admissions and financial aid purposes, thus making them eligible for state aid.
Loans
South Texas College provides Alternative Education Loans through the Texas Higher Education Coordinating Board (THECB) and Sallie Mae. These loans are intended for educational expenses. Please be aware that South Texas College does not participate in any type of Federal Title IV student loan program; Direct and FFEL Stafford Loans and Federal Perkins Loans are not an option at this institution.
Scholarships
Scholarships are another great solution for covering your collegiate costs. Keep in mind there are different types of scholarships, such as merit-based (based on your performance), need-based (based on your financial need), and departmental awards, and most have specific criteria applicants must meet.
Veterans & Military Benefits
Former & active members of the armed forces, and their spouses or dependents may be eligible for education benefits depending on their specific military branch and the benefits they qualify for. The South Texas College Office of Student Veteran Affairs can help guide you through the process.
Work Study Programs
Work Study Programs are designed to provide you with part-time employment and help you contribute to your education costs. If you meet the requirements to be part of the program, keep in mind that your studies will always be the top priority and the work you do will not interfere with them.
Financial Aid Application Info
---
Distance Learning
South Texas College Online offers students flexible and convenient opportunities to complete their education anytime, anywhere.
Distance Learning Courses are offered in a variety of formats: Online, Hybrid, and Web-Enhanced.
Online coursework may be completed from any computer that has Internet access.
Some instructors require students to take proctored exams. Check the course list for specific information.
Hybrid classes divide class meeting-time between online and on-campus locations.
Web-Enhanced courses meet on campus as regularly scheduled and have a web component that is either required or elective at the instructor's discretion.
With South Texas College Online Campus, you can get a quality education from the comfort of your home or office. It's the smart choice in today's busy world.
Distance Learning Help Desk
956-872-2598
Hours: Monday-Friday 8:00am – 7:00pm
support@southtexascollege.edu
---
Student Activities & Wellness
Student Activities and Wellness provides programs and opportunities for students that enhance the collegiate experience and promote a sense of community.
Be Part of Something Big!
YOUR COLLEGE EXPERIENCE WILL BE WHAT YOU MAKE OUT OF IT…
Learn about Student Activities & Wellness in detail by clicking in the Jaguar Journey Presentation:
---
Food Pantry

The South Texas College Student Food Pantry supports students who are experiencing food insecurity by providing them with adequate nutritious food. The pantry also keeps the students engaged by connecting them with additional college services to support their retention and graduation.
---
Veteran Affairs

The office of Veteran Affairs promotes education opportunities to community members who are eligible for Veterans education benefits and provides support, guidance and a variety of services and programs to students who are using educational benefits under the Department of Veteran Affairs Educational Assistance Programs.