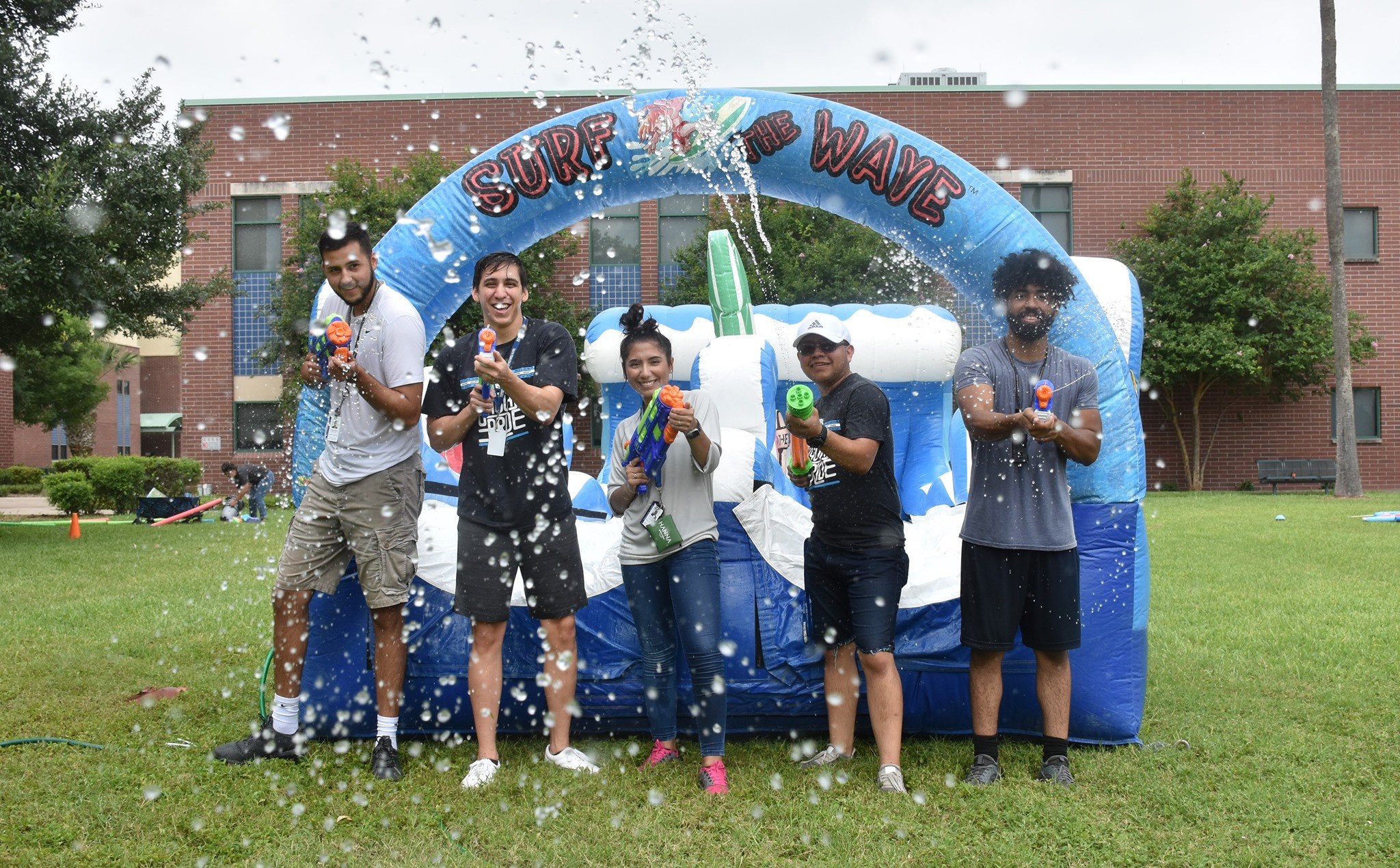 Setup Your Accounts
New students will need to activate their accounts before using Blackboard. This also includes setting up your JagMail email account (Office 365). Already have an account but forgot the password? Follow the links below to get squared away.
---
JagNet
JagNet is South Texas College's web portal that provides personalized access to web services. You may customize JagNet so that the information and tools you need and want are available when you log in. All registered students, faculty and staff have access to course information, group tools, campus life, work life, personal, etc.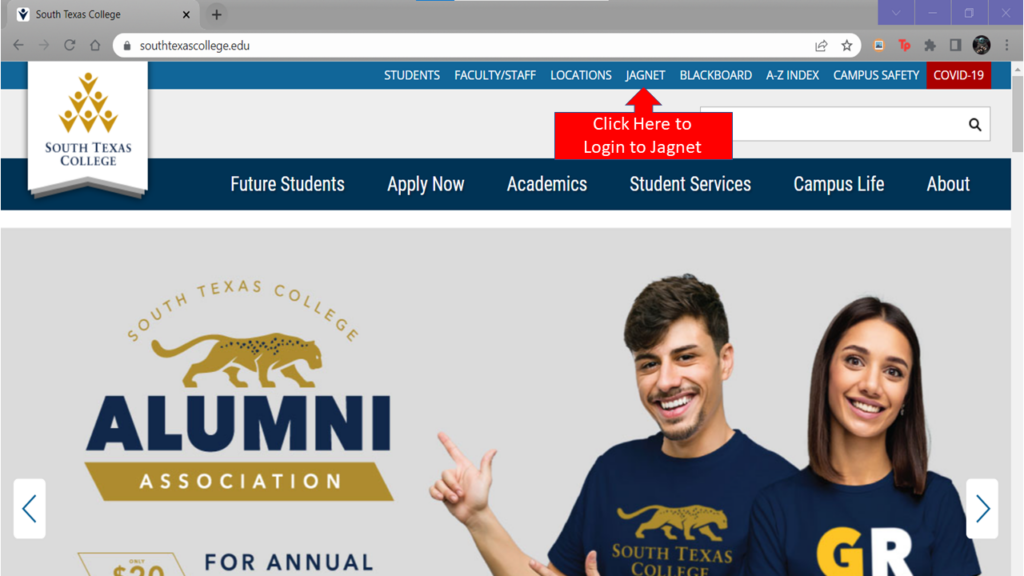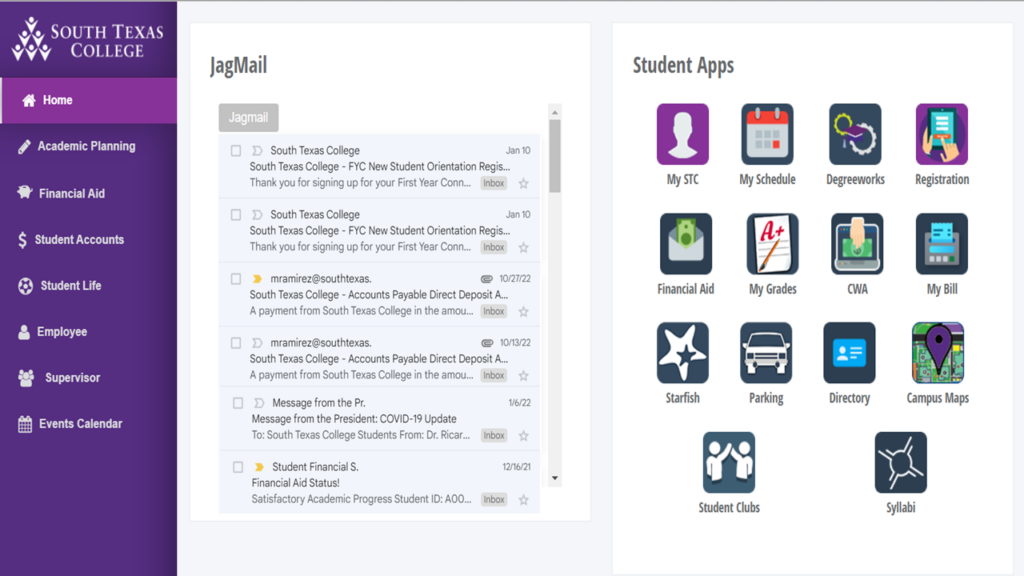 With JagNet you can:
Register for Classes
Purchase Parking permits
Check Grades
Check Financial Aid Status
Pay for Tuition
Access Learning Tools
Etc
---
Blackboard
Blackboard is the official communication software online students use to communicate with faculty and other classmates. With Blackboard students can receive mobile updates about their courses, complete assessments, participate in discussions/sessions, and view your grades.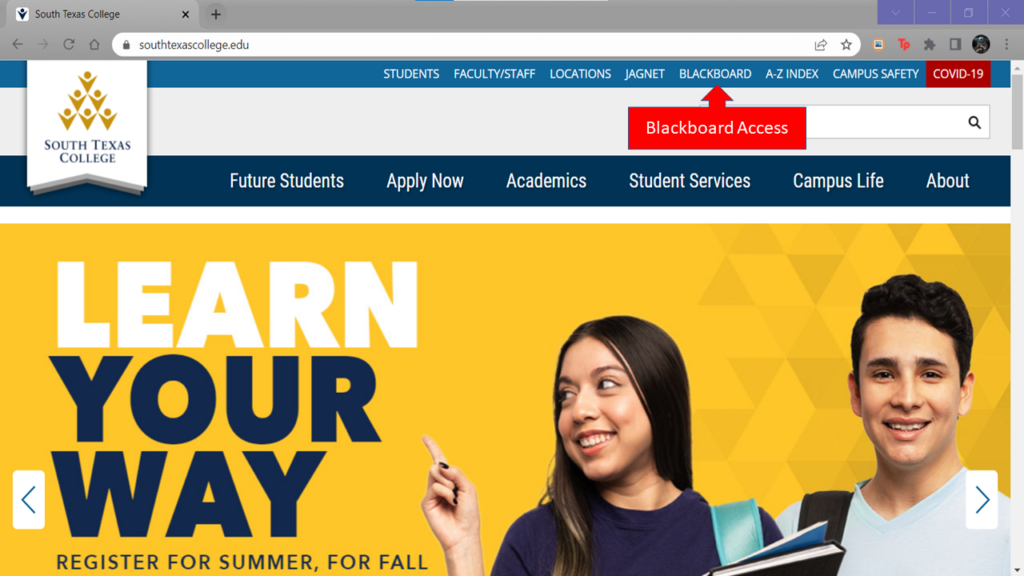 ---
JagMail

JagMail is South Texas College's official means of communication with students. Stay informed…Activate your free STC email account. If you've forgotten your STC JagNet password, please visit the MyPassword site to reset your password. Please note, if you haven't setup your user profile and secret questions, please contact the IS&P IT Service Desk for assistance.
Call 956-872-211 or send email to isphelp@southtexascollege.edu.
---
DegreeWorks

(More Info at Advising)
DegreeWorks is a comprehensive, easy-to-use, web-based academic advising and degree audit tool that helps students and their advisors successfully navigate curriculum requirements. A DegreeWorks audit is a review of past, current and "planned" coursework that provides information on completed and outstanding requirements necessary to complete a degree/major/minor/concentration. Anywhere you can log in to JagNet will allow you access to DegreeWorks.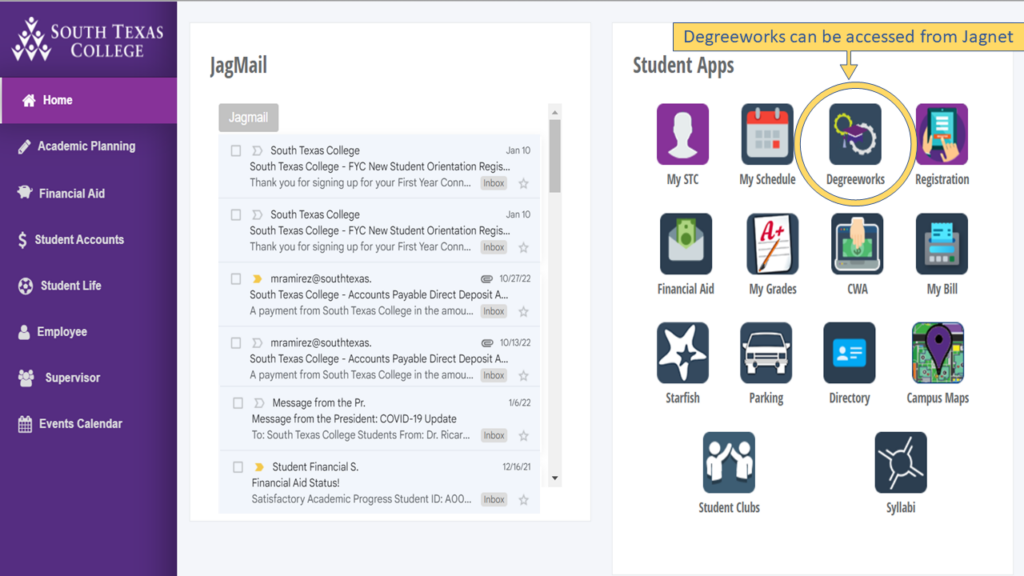 Provides real-time advice and counsel
Speeds time to graduation
Streamlines the graduation process
Allows direct access to multiple related services and advice through hyperlinks to catalog information, class schedules, and FAQs
---
---
One Username, One Password
Information Technology has implemented "One username, One password" to facilitate access to computer systems used throughout the college. With this initiative, students, faculty, and staff are able to log into computers and several applications such as Jagnet, Jagmail, faculty/staff e-mail, Argos, WebFOCUS, and Blackboard using one username and one password.


---
MyPassword Self-Service

---
Student I.D.
All students are responsible for obtaining an identification card at the time of initial registration with the College. Students are expected to show their Student ID card at all times to be identified as a current student and when conducting College business.  The Student ID allows students to access student support services; including the library, campus computer labs, and the Centers for Learning Excellence. Student identification cards are issued to students free of charge and are available at the Enrollment Centers district wide. The Student ID card replacement fee is $15.
---
Bachelor's Degrees Programs
South Texas College currently provides five baccalaureate degrees, three Bachelor of Applied Technology degrees, one Bachelor of Applied Science degree, and one Bachelor of Science degree.