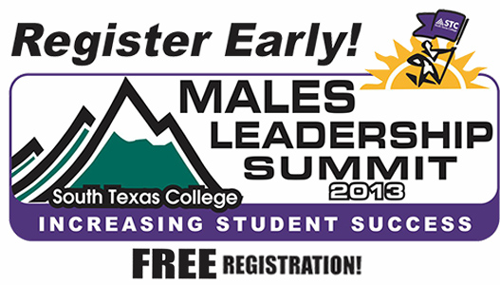 Latino males are losing ground and struggling to access and succeed in college nationwide, and in the Rio Grande Valley it's no different.
To combat the gender and academic achievement gaps for the area's Latinos, South Texas College has teamed up with The University of Texas-Austin and created Project MALES (Mentoring to Achieve Latino Educational Success), and will host the Valley's first MALES Leadership Summit on July 20 from 8 a.m. to 3 p.m. at the STC's Pecan Campus Cooper Center for the Communication Arts Building, located at 3201 W. Pecan Blvd. in McAllen.
Registration is free and the summit is open to high school and current college students.
The MALES Leadership Summit's keynote speakers are Dr. Victor Saenz from UT-Austin, Dr. Luis Ponjuan from Texas A&M University-College Station, and Dr. Vincent Solis, vice president of student affairs at Laredo Community College. The summit will include interactive breakout sessions on topics such as career planning and goals, academic excellence, interviewing skills, finances, and ethics.
"The summit will bring young Latino men to our campus where they will have the opportunity to learn life skills from educated Latino male professionals, who will share their knowledge and experience in overcoming obstacles and barriers," said STC Coordinator of Student Activities Armando Ponce.
STC's Project MALES initiative was established to help first-time enrolled Latino males with their academic transitions by providing emotional support with older Latino male peers and role models.
The purpose of the partnership's initiative is to help curtail the growing gender gap in academic achievement between Latino males and females, and its fall out that is manifested in inequity and may undermine the ability of Latino males to earn a postsecondary education.
In 2009, only 37.5 percent of associate degrees earned by Latinos were earned by males compared to 62.5 percent by female Latinas, according to a report by Dr. Saenz, Dr. Ponjuan, and the Institute of Higher Education Policy. The statistic is almost identical for bachelor's degrees with 38 percent of Latino males earning bachelor's degrees in comparison to 62 percent of Latina females.
"Latino males have the lowest high school graduation rates, as well as the lowest college enrollment and completion rates, of any subgroup," said Ponce. "We need to provide these young men with a new outlook on how they can achieve success through education."
For more information about STC's Males Leadership Summit or how to register, call (956) 872-2515 or email aponce@southtexascollege.edu.
Saturday, July, 20, 2013
8:00 a.m. – 3:00 p.m.
South Texas College – Pecan Campus
Cooper Center – Building L
3201 W. Pecan Blvd, McAllen, TX 78501
For more information contact:
Armando Ponce at (956) 872-2515 or email at aponce@southtexascollege.edu